3 minutes reading time
(685 words)
"Certification is a Waste of Time."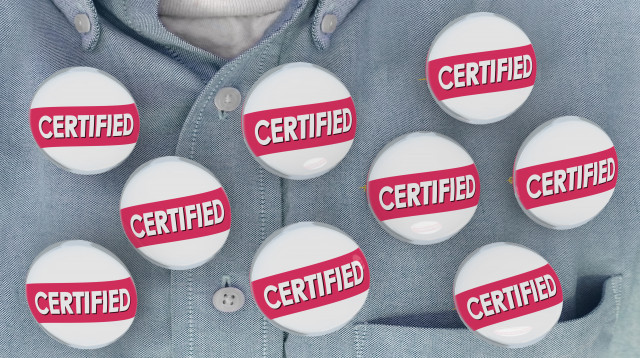 The title of this blog post is something I have heard time and time again in a variety of different forums, Facebook groups, and LinkedIn posts. The conversation usually starts with someone asking for guidance on how to prepare for a certification, or which certification they should begin to pursue. Someone invariably will chime in and try to dissuade the poster from moving forward with getting a certification.
"Certifications are a waste of time."
"Look where I am! I've been in the industry for 25 years and never needed a certification."
"In all my time in safety, I've met lots of [insert certification here] who have no idea what they are doing."
"Experience is way more important than initials behind your name. Focus on expanding your job and don't waste time studying for exams."
Now, everyone is entitled to their opinion, but it is disheartening to see people try to discourage others in the field from expanding their knowledge and achieving a certification. My experience is that most of the people who are so anti-certification are this way primarily because they lack the minimum requirements to be eligible. Usually, these comments come from people who lack a college degree and do not appreciate the fact that they may be getting passed over for jobs and advancement by degreed and certified professionals.
I am sure these people are good safety professionals; lacking certifications does not necessarily make them less effective in the workplace (and I know many non-degreed, non-certified safety professionals that do an outstanding job). But the data shows that gaining professional certifications is good for your career. The BCSP and NSC recently published their 2020 SH&E Salary Survey (www.bcsp.org/resources/salary-survey). The results of this survey show that the median salary of someone in the SH&E industry is $98,000. Employees with the CSP® had a median salary of $110,000. Having the CHMM® increases the median to $116,000 while being a CIH® moves the median salary to $123,000. That is a pretty good return on investment for some time, energy, and a few hundred dollars in application and exam fees.
Not only might these certifications be good for your wallet but studying for these exams is a great way to increase your knowledge and effectiveness as an SH&E professional. I know that as I studied for these various exams, I learned a lot about a wide range of topics that I might not deal with daily. Does this studying make me a subject matter expert able to tackle all problems in all areas? No. But studying and gaining exposure to these topics outside of my normal areas of practice did go a long way to making me a better safety professional. In addition, as all legitimate SH&E certifications require continuing experience and education, achieving a certification means that you are making a commitment to stay up to date on technical knowledge in the field.
Is experience important for an effective safety professional? ABSOLUTELY! This is why having a minimum amount of experience is required before you can even be eligible to sit for these exams. So, whether someone should get experience or study for a certification cannot and should not be mutually exclusive. Do these exams require a lot of time and energy and money to achieve? DEFINITELY! But the potential rewards of a higher salary, greater knowledge, and a larger competitive advantage for jobs and promotions in my opinion definitely make it worth it.
So, if you know of someone who is interested in getting a professional certification, I would ask you not to try and put down their goal as unnecessary or a waste of time. Be a supportive colleague and help encourage them to achieve their professional development goals! And maybe, consider what a professional certification can do to enhance your career.
William J. Pate, DrPH, MBA, CHP, CIH, CSP, CHMM
Senior Instructor
Dr. Pate has over 10 years of environmental health and safety experience in academic, research and healthcare settings in both the public and private sectors. Dr. Pate's EHS experience has ranged from collection and management of radioactive, chemical, and biologic waste streams for a major research university to management of a comprehensive EHS program for a large multi-facility health system. Dr. Pate has been responsible for the development and delivery of a variety of EHS training topics, and his goal is to assist Bowen EHS clients in achieving their professional development goals. Outside of work, Dr. Pate enjoys spending time with his wife and two daughters.
Read more: William J. Pate, DrPH, MBA, CHP, CIH, CSP, CHMM
Read more from Dr. Pate on his blog: Unsafe Musings of a Safety Professional
The views and opinions expressed in this article are those of the author and do not necessarily reflect the official policy or position of Bowen EHS.
By accepting you will be accessing a service provided by a third-party external to https://bowenehs.com/